FRIENDSHIP FORCE OF MANITOBA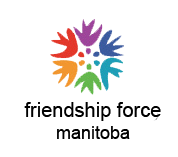 EVENTS:
​
All in-person events are cancelled until further notice.
​
​
NEWS:
WORLD FRIENDSHIP DAY
The tradition of World Friendship Day began in March 2005 as a way for Friendship Force International, and its 360 clubs around the world, to have a specific day to commemorate the organization's birth.

Friendship Force International was launched at a White House ceremony in March, 1977, with the endorsement and support of President Jimmy Carter. The work of Friendship Force International was recognized with a 1992 nomination for the Nobel Peace prize.

A resolution honouring Friendship Force International, and recognizing March 1 as World Friendship Day, was introduced in the U.S. Senate in 2007. In 2017, we celebrated both 40 years of Friendship Force International and 20 years of Friendship Force Manitoba.

The very first World Friendship Day in 2005 was celebrated in style by clubs around the world.
In March, 2017, in Winnipeg, Manitoba, for the fifth year, the celebration was enjoyed by both the Winnipeg and Manitoba Friendship Force Clubs. This event is always open to Guests. Check out the article on the Press Clippings page titled "A Force to be Reckoned With".
​
​
​
"MAKE A FRIEND, MAKE A DIFFERENCE"