FRIENDSHIP FORCE OF MANITOBA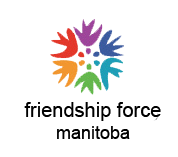 PRESS CLIPPINGS
​
Friday, May 27 "World Friendship Day" joint meeting with FF Winnipeg, FF Brandon and ambassadors from FF Los Angeles was celebrateed at the Norwood Hotel:
​
​
​
​
​
​
​
​
​
​
Thursday, June 23, 2022 Windup and Membership meeting​

429 Beaverhill in Southdale

Estimated cost $30 to be confirmed

Time: 5:30 Cocktail hour - probably just wine

6:30 Dinner
July 27, 2022: Tentative Bus trip to International Peace Gardens

details and signup sheet will be presented at World Friendship Day on May 27​

FF Lower Columbia is planning on visiting FF Manitoba September 20-27th
​
​
Coming this fall:

Friendship Force Ottawa (FFO) is inviting club members from across Canada to participate in an Indigenous book club starting this fall. Our goal is to help members determine what role we, collectively and individually, play in this era of reconciliation.

The first book we will be reviewing, The Inconvenient Indian - A Curious Account of Native People in North America by Thomas King, is intended to help us begin to develop an awareness of the past. It is a witty, unconventional account of the history of Indigenous and non-indigenous relations in North America that does NOT resemble what you and I were taught at school.

If you are interested in participating, please email eventsffo@gmail.com Joanne Curran and Shirley McKey at Friendship Force Ottawa
​
​
Members are invited to chat at our Wednesday morning Zoom "Coffee Time."
Contact Denise at frdelaws@mts.net
or Peggy at phsmith448@gmail.com to find out more.
​
​
NEWS:
​
We will be celebrating FFM's 25th anniversary at our October 22 meeting!
​
​
​
KEYSTONE KLIPPINGS NEWSLETTER 2022
​
​
​
Learn more about the Friendship Force of Manitoba by reading local news articles about our club:
(Just click on the underlined heading to bring up the article)
​
​
Numerous Nations under just one roof -
A local friendship group with a worldwide reach is looking to welcome community members with open arms. Check out this article, as published in The Lance, about the Open House Dinner meeting at Friendship Force Manitoba in September, 2014. This event was dubbed "Festival of Nations" with booths depicting some of the countries that our members have visited.
If you missed this event but would like to attend a meeting of Friendship Force Manitoba remember that our monthly Dinner Meetings are always open to guests. Check the Homepage for dates and how to make your reservation.
​
City makes Time's list of World's Greatest Place
Friendship Force of Japan tours Brokenhead - read about the activities in the week long adventure during the Friendship Force of Oita, Japan's exchange with the Friendship Force of Manitoba, in August, 2014.
"A Force to be Reckoned With" - An article about celebrating 2014 World Friendship Day with Friendship Force Manitoba and Friendship Force Winnipeg.
"Seeing the World from the Inside" - read about Friendship Force experiences from a member of our Club.
​
G'day (eh?) -- welcome to winter Australians, Americans get taste of Winnipeg
In February, 2011, Friendship Force Manitoba hosted Ambassadors from Australia and USA. They thoroughly enjoyed experiencing one of our Manitoba winters. Read about their adventures by clicking below.
​
​
​
"We come together as strangers, we leave as friends."
tradition of World Friendship Day began in March 2005 as a way for Friendship Force International, and its 360 clubs around the world, to have a specific day to commemorate the organization's birth
​
Friendship Force International was launched at a White House ceremony in March, 1977, with the endorsement and support of President Jimmy Carter. The work of Friendship Force International was recognized with a 1992 nomination for the Nobel Peace prize
resolution honouring Friendship Force International, and recognizing March 1 as World Friendship Day, was introduced in the U.S. Senate in 2007

In 2017, we celebrated both 40 years of Friendship Force International and 20 years of Friendship Force Manitoba.
​
March, 2017, in Winnipeg, Manitoba, for the fifth year, the celebration was enjoyed by both the Winnipeg and Manitoba Friendship Force Clubs. This event is always open to Guests. Check out the article on the Press Clippings link above titled "A Force to be Reckoned With".
​
​
​
"MAKE A FRIEND, MAKE A DIFFERENCE"
​
​
​