FRIENDSHIP FORCE OF MANITOBA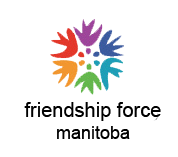 NEWS:
​
​
KEYSTONE KLIPPINGS NEWSLETTER
​
​
​
Learn more about the Friendship Force of Manitoba by reading local news articles about our club:
(Just click on the underlined heading to bring up the article)
​
​
Numerous Nations under just one roof -
A local friendship group with a worldwide reach is looking to welcome community members with open arms. Check out this article, as published in The Lance, about the Open House Dinner meeting at Friendship Force Manitoba in September, 2014. This event was dubbed "Festival of Nations" with booths depicting some of the countries that our members have visited.
If you missed this event but would like to attend a meeting of Friendship Force Manitoba remember that our monthly Dinner Meetings are always open to guests. Check the Homepage for dates and how to make your reservation.
City makes Time's list of World's Greatest Place
Friendship Force of Japan tours Brokenhead - read about the activities in the week long adventure during the Friendship Force of Oita, Japan's exchange with the Friendship Force of Manitoba, in August, 2014.
"A Force to be Reckoned With" - An article about celebrating 2014 World Friendship Day with Friendship Force Manitoba and Friendship Force Winnipeg.
"Seeing the World from the Inside" - read about Friendship Force experiences from a member of our Club.
​
G'day (eh?) -- welcome to winter Australians, Americans get taste of Winnipeg
In February, 2011, Friendship Force Manitoba hosted Ambassadors from Australia and USA. They thoroughly enjoyed experiencing one of our Manitoba winters. Read about their adventures by clicking below.
​
​
​
President and Mrs. Carter gave their immediate support and launched The Friendship Force at a White House dinner with the 50 governors of the United States on March 1, 1976

on March 17, 1977, The Friendship Force was officially chartered

tradition of World Friendship Day began in March 2005 as a way for Friendship Force International, and its more than 360 clubs around the world, to have a specific day to commemorate the organization's birth

the work of Friendship Force International was recognized with a 1992 nomination for the Nobel Peace prize

resolution honouring Friendship Force International, and recognizing March 1 as World Friendship Day, was introduced in the U.S. Senate in 2007

in 2017, we celebrated both 40 years of Friendship Force International and 20 years of Friendship Force Manitoba

March, 2017, in Winnipeg, Manitoba, for the fifth year, the celebration was enjoyed by both the Winnipeg and Manitoba Friendship Force Clubs. This event is always open to Guests. Check out the article on the Press Clippings link above titled "A Force to be Reckoned With"
​
​
​
"MAKE A FRIEND, MAKE A DIFFERENCE"
​
​
​