FRIENDSHIP FORCE OF MANITOBA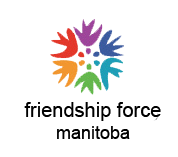 ​
Manitoba Facts
Manitoba became a province in 1870, the first province to join Canada after Confederation in 1867.

Population: c. 1,370,000

Area: 650,000 square kilometres / 250,000 square miles

Main geographic zones: tundra (north), Boreal Forest (central), prairie (south)

Number of lakes: over 114,000

Highest point: Baldy Mountain in Duck Mountain Provincial Park: 832 metres (2,730 feet)

Principal cities: Brandon, Dauphin, Flin Flon, Morden, Portage la Prairie, Selkirk, Steinbach, Thompson, Winkler, Winnipeg

Capital and largest city: Winnipeg; metropolitan population c. 780,000

Most spoken languages: English, German, French, Tagalog, Cree, Ukrainian, Chinese, Punjabi, Spanish, Ojibwa

About 48% of Manitoba is forested.

Almost all electricity in Manitoba is generated by hydroelectric dams on rapid rivers.

A.A. Milne's Winnie the Pooh was named after Winnipeg.

A few well-known Manitobans: Marshall McLuhan, communications theorist; Carol Shields, Pulitzer Prize winning novelist; singers/musicians Randy Bachman, Burton Cummings, Neil Young, Crash Test Dummies and many more; Guy Maddin, filmmaker; Sir William Stephenson, code-named Intrepid, inspiration for James Bond.

Provincial symbols: Flower: prairie crocus (blooms early in spring), Animal: bison, Tree: white spruce, Bird: great grey owl

The name "Manitoba" is from the Cree or Ojibwa "manitou bou" meaning "strait of the Great Spirit" or "where the spirit lives"

Nickname: the Keystone Province (because it's in the centre of Canada)
​
Manitoba Attractions
The Town of Churchill (population about 1,000) attracts visitors from around the world to see polar bears, aurora borealis, Arctic birds, and narwhal and beluga whales in Hudson Bay. Churchill is about 1,000 kilometres (over 600 miles) from Winnipeg and accessible only by rail and air.

Major attractions in Winnipeg include Assiniboine Park with a large zoo and "Journey to Churchill," a sculpture garden and English garden and lots of green space; the Manitoba Museum, which tells the history of the province and has been extensively renovated over the past four years; the Canadian Museum for Human Rights (opened 2015), which highlights human rights in history and today; the neo-Classical Legislative Building, where the provincial government meets; the Winnipeg Art Gallery, which shows art from Manitoba, Canada and around the world; and St. Boniface, the French quarter. Friendship Force ambassadors visit at least a couple of these attractions during each journey.

New in 2021: Qaumajuq, a centre for Inuit art, part of the Winnipeg Art Gallery - an ambitious art museum and research centre that will put much more of the WAG's huge Inuit art collection on display and incorporate participation by Inuit artists from Nunavut.

Manitoba hosts dozens of festivals. Festival du Voyageur in Winnipeg in February celebrates the accomplishments of the early French-Canadian fur traders and the joys of the Canadian winter. The Winnipeg Folk Festival (in Birds Hill Provincial Park just north of Winnipeg) in July features major musical acts from around the world. During the first two weeks of August in Winnipeg, Folklorama showcases the dozens of cultural communities in Manitoba, presented by 20,000 volunteers. Other festivals around the province showcase music, culture and history. Festivals have been suspended since March 2020, but they will return when it is safe to gather again.