FRIENDSHIP FORCE OF MANITOBA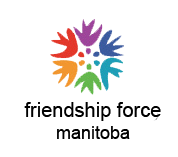 ​
Manitoba Facts
Manitoba became a province in 1870, the first province to join Canada after Confederation in 1867
​
​
Area: 650,000 square kilometres / 250,000 square miles​
​
Main geographic zones: tundra (north), Boreal Forest (central), prairie (south)
​
Number of lakes: over 114,000
​
Highest point: Baldy Mountain in Duck Mountain Provincial Park: 832 metres (2,730 feet)
​
Principal cities: Brandon, Dauphin, Flin Flon, Morden, Portage la Prairie, Selkirk, Steinbach, Thompson, Winkler, Winnipeg
​
Capital and largest city: Winnipeg; metropolitan population c. 780,000
​
Most spoken languages: English, German, French, Tagalog, Cree, Ukrainian, Chinese, Punjabi, Spanish, Ojibwa
​
About 48% of Manitoba is forested.
​
​
​
​
​
Almost all electricity in Manitoba is generated by hydroelectric dams on rapid rivers
​
A.A. Milne's Winnie the Pooh was named after Winnipeg
​
A few well-known Manitobans: Marshall McLuhan, communications theorist; Carol Shields, Pulitzer Prize winning novelist; singers/musicians Randy Bachman, Burton Cummings, Neil Young, Crash Test Dummies and many more; Guy Maddin, filmmaker; Sir William Stephenson, code-named Intrepid, inspiration for James Bond
​
​
Provincial symbols: Flower: prairie crocus (blooms early in spring), Animal: bison, Tree: white spruce, Bird: great grey owl
​
​​
The name "Manitoba" is from the Cree or Ojibwa "manitou bou" meaning "strait of the Great Spirit" or "where the spirit lives"
​
Nickname: the Keystone Province (because it's in the centre of Canada)
​
​
Manitoba Attractions
The Town of Churchill (population about 1,000) attracts visitors from around the world to see polar bears, aurora borealis, Arctic birds, and narwhal and beluga whales in Hudson Bay. Churchill is about 1,000 kilometres (over 600 miles) from Winnipeg and accessible only by rail and air
​
Major attractions in Winnipeg include

Assiniboine Park with a large zoo and "Journey to Churchill," a sculpture garden and English garden and lots of green space. Winnipeg's new horticultural attraction with four lush biomes, showcasing a butterfly garden and waterfall opened December 2022

Manitoba Museum tells the history of the province. Board a replica of the Nonsuch, which sailed from England in 1668 to trade for furs in Hudson Bay. Built using hand tools of the 17th century, it is considered one of the finest replicas in the world

Lower Fort Garry is a national historic site on the original grounds of a fur trading post which opened up the west

Canadian Museum for Human Rights (opened 2015) which highlights human rights in history and today

Legislative Building is the home of the provincial government

Famous Golden Boy statue sits above Legislative Building (opened 1918)

Winnipeg Art Gallery, which shows art from Manitoba, Canada and around the world. Qaumajuq, a centre for Inuit art, part of the Winnipeg Art Gallery - an ambitious art museum and research centre that will put much more of the WAG's huge Inuit art collection on display and incorporate participation by Inuit artists from Nunavut.

St. Boniface, the French quarter, resting place of Louis Riel, home of the St. Boniface Cathedral dating back to 1818 as well as the St. Boniface Museum and Fort Gibraltar (originally built in 1809)

Franco-Manitobans celebrate their French heritage with Festival du Voyageur in Winnipeg in February. This highlights the accomplishments of the early French-Canadian fur traders and the joys of the Canadian winter. ​

ManitobaTyndall stone was designated as a GLOBAL HERITAGE STONE RESOURCE in 2023. Manitoba icon becomes a rockstar
​
Royal Aviation Museum features

an outdoor aviation plaza

an observation lounge

one of the most extensive bush plane collections

limited-time exhibits

a museum store

a unique venue space for special events
​
Maritime Museum of Manitoba tells the story of the development and operation of marine life on Lake Winnipeg and the Red River from 1850 to present day. Board the actual ships that navigated the waters of the world's tenth largest lake
​
Well known Manitoba festivals​

The Winnipeg Folk Festival, (in Birds Hill Provincial Park just north of Winnipeg), in July features major musical acts from around the world.

During the first two weeks of August in Winnipeg, Folklorama showcases the dozens of cultural communities in Manitoba, presented by 20,000 volunteers.

​

Other festivals around the province showcase music, culture and history. Check the websites of individual events for up-to-date information.
​
​
​
​
​
​
​
​
​