FRIENDSHIP FORCE OF MANITOBA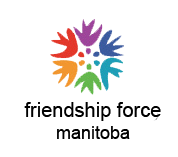 FREQUENTLY ASKED QUESTIONS ABOUT JOURNEYS:
What is a 'host'?
welcomes members into their homes for one week

provides accommodation and activities that reflect their community life and culture

participates in sightseeing, shopping, visiting local attractions and other group social activities are included
What is an 'ambassador'?
a guest in the home of a host sharing everyday life experiences and activities
What is an 'inbound' and 'outbound' journey?
'inbound' journey is when we welcome other Friendship Force members from around the world into our homes and community as our guests

outbound' journey is when we travel outside our city or country and are hosted by Friendship Force members in other areas of the world
What is a 'homestay'?
you are hosted free as a guest in the home of another Friendship Force member

share their life for a week and most likely their friendship for a lifetime

as 'ambassador' the only expectation of you is that you offer to treat your hosts to a restaurant dinner and present them with a small gift, usually something that reflects your city/country
What are the travel costs?
on an outbound journey we pay our own transportation costs plus a nominal fee to Friendship Force International

FFI in turn passes on some of this money to the host club which enables them to provide us with a program that usually includes sightseeing, dinners, etc.
Not a traveller?
don't ever have to travel if you don't want

can still participate by hosting guests in your home, day hosting or joining in the planned activities during an Incoming journey

meeting other Friendship Force members is a great experience
I work all day, how can I participate?
There are many ways you could participate in a journey.
you could provide accommodation on a 'bed and breakfast' basis and let another club member assist you by looking after your guest during the day ('day hosting')

you could contribute by inviting a couple of guests to join you for a meal one evening, or provide some food or assistance for the welcome or farewell party
How are journeys organized?
individual clubs decide where in the world they would like to travel and from what cities or countries they would welcome guests

information is forwarded to Friendship Force International in Atlanta and there the staff organizes club match-ups

FFI then informs the clubs of their matches and each club can either agree or disagree with the match

if both clubs are agreeable, the journey is confirmed

member from each club acts as 'Journey Director' and they work together to find suitable dates and facilitate the pairing of 'Hosts' and 'Ambassadors'

pairing involves trying to match people of similar ages and interests if possible

host club forms a committee that plans the sightseeing, outings and entertainment for the week. Journeys are most enjoyable and successful when both clubs work effectively together
​