FRIENDSHIP FORCE OF MANITOBA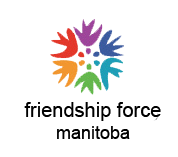 ​
GUESTS WELCOME!
​
Friday, May 27: World Friendship Day / Farewell Dinner for FFW's ambassadors from
Los Angeles:
FF Winnipeg, FF Brandon and ambassadors from FF Los Angeles

Norwood Hotel, 112 Marion Street

Doors open / Cocktail Hour 5:30 p.m. Dinner and program 6:30 p.m.
​
June 23rd, 2022: June meeting and windup meeting- location
to be determined
​
July 27, 2022: Tentative Bus trip to International Peace Gardens
details and signup sheet will be presented at World Friendship Day on May 27
​
September 20-27, 2022: FF Lower Columbia is planning on visiting FF Manitoba
​
Members share Ukranian culture at April 2022 meeting:
​
​
​
​
​
​
​
​
​
​
​
​
​
​
About our regular monthly membership meetings:
​
monthly Dinner Meetings of the Friendship Force of Manitoba are usually held on the first Wednesday of the month. Doors open by 5:30 p.m., dinner at 6:30 p.m.
​
meetings may include speakers on travel, different cultures or other topics of interest to our members. The meetings may have a theme related to a country we will be visiting or which will be visiting our Club
usually hold a short business meeting.
​
*Reservations are required by Saturday before each meeting.
Contact Denise at frdelaws@mts.net
​
​
​
​
​
​
​
​
​
​
​
​
​