FRIENDSHIP FORCE OF MANITOBA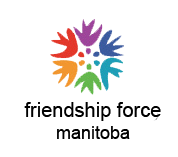 ​
GUESTS WELCOME!
​
​
December 7th Holiday gathering:
$40 at the Norwood Hotel Meal TBA
​
MEMBERS ENJOY PRESENTATION BY PARTICIPANTS OF 2022 FESTIVAL AT SEA OCTOBER 2022 MEETING
​
​
​
​
​
​
​
​
​
​
​
​
​
​
​
About our regular monthly membership meetings:
​
monthly Dinner Meetings of the Friendship Force of Manitoba are usually held on the first Wednesday of the month. Doors open by 5:30 p.m., dinner at 6:30 p.m.
​
meetings may include speakers on travel, different cultures or other topics of interest to our members. The meetings may have a theme related to a country we will be visiting or which will be visiting our Club
usually hold a short business meeting.
​
*Reservations are required by Saturday before each meeting.
Contact Denise at frdelaws@mts.net
​
​
​
​
​
​
​
​
​
​
​
​
​