FRIENDSHIP FORCE OF MANITOBA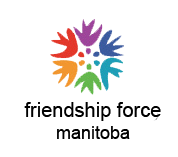 ​
GUESTS WELCOME!
​
​
June 23rd, 2022: June meeting and windup meeting
429 Beaverhill in Southdale

Estimated cost $30 to be confirmed

Time: 5:30 Cocktail hour - probably just wine

6:30 Dinner
​
July 27, 2022: Bus trip to International Peace Gardens.
Cost for the day is dependent on the number of people going, the size of the bus and the plans made for lunch. The program committee anticipates a cost somewhere in the area of $35 - 50 per person

There will be a sign up sheet at the dinner on May 27. Please see Gail Shimonek.
​
​
September 20-27, 2022: FF Lower Columbia is planning on visiting FF Manitoba
​
Members share Ukranian culture at April 2022 meeting:
​
​
​
​
​
​
​
​
​
​
​
​
​
​
About our regular monthly membership meetings:
​
monthly Dinner Meetings of the Friendship Force of Manitoba are usually held on the first Wednesday of the month. Doors open by 5:30 p.m., dinner at 6:30 p.m.
​
meetings may include speakers on travel, different cultures or other topics of interest to our members. The meetings may have a theme related to a country we will be visiting or which will be visiting our Club
usually hold a short business meeting.
​
*Reservations are required by Saturday before each meeting.
Contact Denise at frdelaws@mts.net
​
​
​
​
​
​
​
​
​
​
​
​
​