FRIENDSHIP FORCE OF MANITOBA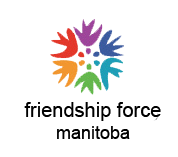 Welcome
to
Friendship Force Manitoba!
We are located in the friendly city of Winnipeg in the province of Manitoba in Canada.
​
​
Friendship Force membership is an exciting cultural travel and goodwill opportunity. What's it all about?
FRIENDSHIP FORCE INTERNATIONAL
a non-profit organization founded in 1977 by President Jimmy Carter

over 300 active clubs in Canada, the United States, Europe, Asia, Australia, New Zealand, South America, South Africa and Indonesia

membership is open to singles, couples, and families

purpose is to develop friendships with people of different nations and cultures so that a "World of Friends would become a World of Peace"

major goal is to foster world peace by building global friendships between members of clubs through the experience of home stay exchanges
​
MONTHLY DINNER MEETINGS
held first Wednesday of the month

guests always welcome

doors open by 5:30 and dinner at 6:30

contact frdelaws@mymts.net for information
​
UPCOMING CLUB EVENTS & DINNER MEETINGS
Learn more about our province at:
* Check our our Newsletter page to read latest edition of Keystone Klippings!
September 20-27th: FF Lower Columbia is planning on visiting FF Manitoba
July 27, 2022: Bus trip to International Peace Gardens.
Cost for the day is dependent on the number of people going, the size of the bus and the plans made for lunch. The program committee anticipates a cost somewhere in the area of $35 - 50 per person

There will be a sign up sheet at the dinner on May 27. Please see Gail Shimonek.
​
June 23rd, 2022: June meeting and windup meeting
429 Beaverhill in Southdale

Estimated cost $30 to be confirmed

Time: 5:30 Cocktail hour - probably just wine

6:30 Dinner
Friday, May 27: World Friendship Day / Farewell Dinner for FFW's ambassadors from
Los Angeles.
Friendship Day cake served to guests​

John Einarson, musicologist and author, presents history of Manitoba music to Friendship Force groups
​
​
​​
​
​
​
​
​
​
​
​
​
​​
​
​
​