FRIENDSHIP FORCE OF MANITOBA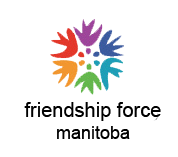 Welcome to the website of
Friendship Force Manitoba!
We are located in the friendly city of Winnipeg in the province of Manitoba in Canada.
Did you know there is another Friendship Force club in Winnipeg?
Our sister club Friendship Force Winnipeg also meets here!
Here is the FF Winnipeg website: FFW
​
Friendship Force membership is an exciting cultural travel and goodwill opportunity. What's it all about?
Friendship Force International was founded in 1977. It has grown since its inception to include over 300 active clubs in Canada, the United States, Europe, Asia, Australia, New Zealand and South America. One of its major goals is to foster world peace and it approaches this goal by building global friendships between members of clubs through the experience of home stay exchanges.
It is hoped that world peace will be built "one friend at a time". Over 500,000 Ambassadors have travelled around the world experiencing countries and cultures not through "the window of a bus, but through the window of a home".
The Friendship Force of Manitoba was founded in 1997 and since that time has hosted numerous clubs from around the world, and our members have travelled to the four corners of the earth.
Fabric dyeing in Toulouse, France
CLUB UPCOMING EVENTS & DINNER MEETINGS
​
Due to the current Covid situation, our January event has been postponed. February and future events will be reviewed and may be moved to Zoom.
Please contact Denise (number below) to current information.
​
Members are invited to chat at our weekly Wednesday morning Zoom coffee breaks.
Call Denise at 204-782-5686
or Peggy at 204-224-1480 to find out more.
​