FRIENDSHIP FORCE OF MANITOBA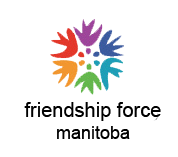 In The News!
Learn more about the Friendship Force of Manitoba by reading local news articles about our club:
(Just click on the underlined heading to bring up the article)
Friendship Force of Japan tours Brokenhead - read about the activities in the week long adventure during the Friendship Force of Oita, Japan's exchange with the Friendship Force of Manitoba, in August, 2014.
"A Force to be Reckoned With" - An article about celebrating 2014 World Friendship Day with Friendship Force Manitoba and Friendship Force Winnipeg.
"Seeing the World from the Inside" - read about Friendship Force experiences from a member of our Club.
An article from The Brandon Sun, about a Brandon resident and her experience with Friendship Force.
In February, 2011, Friendship Force Manitoba hosted Ambassadors from Australia and USA. They thoroughly enjoyed experiencing one of our Manitoba winters. Read about their adventures by clicking below.
| | |
| --- | --- |
| | Australians, Americans get taste of Winnipeg |
Numerous Nations under just one roof -
A local friendship group with a worldwide reach is looking to welcome community members with open arms. Check out this article, as published in The Lance, about the Open House Dinner meeting at Friendship Force Manitoba in September, 2014. This event was dubbed "Festival of Nations" with booths depicting some of the countries that our members have visited.
If you missed this event but would like to attend a meeting of Friendship Force Manitoba remember that our monthly Dinner Meetings are always open to guests. Check the Homepage for dates and how to make your reservation.